By CHEN WEIHUA in Brussels | China Daily | Updated: 2020-03-03 03:03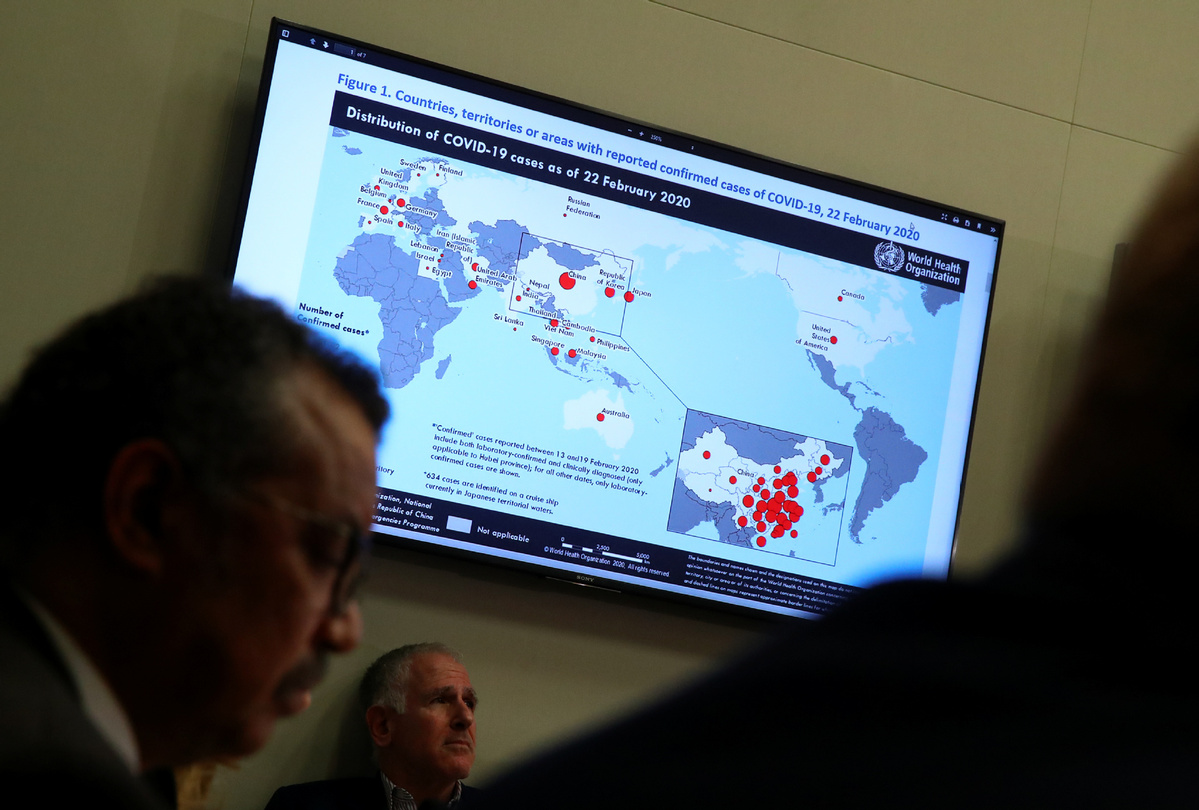 The World Health Organization says containment is still the best policy for nations fighting the outbreak of novel coronavirus.
The WHO's director-general, Tedros Adhanom Ghebreyesus, pointed on Monday to outbreaks of the virus in the Republic of Korea, Italy, Iran, and Japan as being of "great concern".
The ROK has now reported more than 4,200 cases of the virus and 22 deaths attributed to it, meaning it has around half of all cases outside China.
The WHO said on Monday morning that it is now aware of 8,739 cases in 61 countries and territories outside China, with 127 deaths.
In the 24 hours before the 4 pm news conference on Monday, there were almost nine times more cases reported outside China than inside it.
A WHO team arrived in Iran on Monday afternoon to deliver supplies and to support the government in its response to the virus, which causes the COVID-19 respiratory disease.
Iran had reported 1,501 cases, including 66 deaths, by 3 pm Cairo time on Monday, according to the WHO.
Michael Ryan, executive director of the WHO's Health Emergencies Program, praised China for also sending a technical response team to Iran to help fight the outbreak. He said China had also committed to help countries with weak public health systems.
"We very much appreciate that," he said.
Tedros emphasized that the virus is not influenza.
"We are in unchartered territory," he said.
He explained that the world has never before seen a respiratory pathogen that is capable of community transmission, but which can also be contained with the right measures.
"If this COVID-19 was an influenza epidemic, we would have expected to see widespread community transmission across the globe by now, and efforts to slow it down or contain it would not be feasible," he said. "But containment of COVID-19 is feasible and must remain the top priority for all countries."
The WHO chief said with early, aggressive measures, countries can stop transmission and save lives.
"Our message to all countries is: This is not one-way street. We can push this coronavirus back. Your actions now will determine the course of the COVID-19 outbreak in your country."
On Monday, the European Center for Disease Prevent and Control (ECDC) raised the risk level of COVID-19 to moderate to high for people in the European Union, up from the low to moderate last week.
The EU reported 2,100 cases of COVID-19 in 18 of its 27 member states, with 38 deaths as of Monday morning.
The EU launched a European novel coronavirus response team on Monday. It includes five commissioners charged with tackling the virus from medical, mobility, and economic aspects.
"We are facing a rapidly changing situation … And we all need to be ready for further development," Stella Kyriakidou, the EU commissioner for health and food safety, said at a news conference.