By Scott Reeves in New York | chinadaily.com.cn | Updated: 2020-03-03 12:18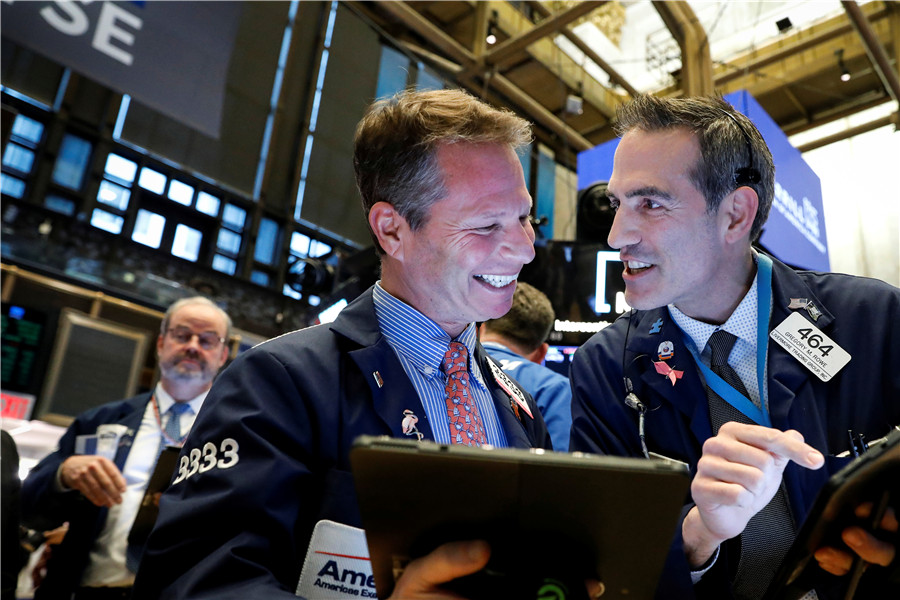 Stocks rallied Monday as investors bet that the US Federal Reserve and central banks in Europe and Asia will intervene to stabilize markets and guard against an economic slowdown caused by the worldwide spread of the coronavirus.
After declining about 14 percent since Feb 24, the Dow Jones Industrial Average rose 1293.96 points, or 5.09 percent, to close at 26,703.32. The S&P 500 was up 4.60 percent, and the Nasdaq finished 4.49 percent higher.
Investors are looking to the Fed to cut interest rates to stimulate the economy when it meets March 17-18.
Goldman Sachs believes the rate cut may come prior to the meeting. In 2019, the Fed cut rates three times by a quarter-point each to a range of 1.50-1.75 percent.
"The market is definitely applauding expected central bank action, which has become a question of when and not if," Kamal Khan, chief US editor of Investing.com in New York, told China Daily in an e-mail.
"Fed funds futures are pricing in a 100 percent chance of a 50-basis-point rate cut at the Federal Open Market Committee's March meeting," said Khan, adding that Goldman Sachs said Sunday it expects rates to come down another 50 basis points in the second quarter.
Central banks in the UK, Italy, the European Union, Japan and South Korea all have indicated a willingness to cut rates if needed, raising the possibility of a coordinated response to the coronavirus threat. China has already cut rates, allowing the government to pump money into the economy if needed.
The market also got a boost when it was announced that G7 finance ministers would hold a teleconference Tuesday to discuss further action to stabilize the markets.
"Right now, the more government seems on top of things, the better investors feel," Khan said.
Lower rates reduce the cost of commercial borrowing and consumer debt. A cut would be intended to encourage investment and spending. Consumer spending represents about 70 percent of the US economy.
The Federal Reserve doesn't comment on possible action prior to its meeting. But in a statement released Friday, Fed Chairman Jerome Powell said the central bank will "act as appropriate to support the economy".
US President Donald Trump urged the Fed to act quickly and suggested Powell's statement was not enough.
"I think the Fed has a very important role, and especially psychological," Trump said Saturday. "We should have the lowest rates. We don't have the lowest interest rates — the Fed rate is higher."
Trump said he is considering another round of tax cuts but won't act until later this year.
Bank of America cut its 2020 economic growth forecast for the US by 0.1 percent on Friday to 1.6 percent. Moody's Analytics now estimates the chances of a recession at 4 in 10, but Capital Economics put the risk at 1 in 10.
The Organization for Economic Cooperation and Development (OECD), a Paris-based forum of 36 nations with market economies that work to promote economic growth, said Monday that it expects the global economy to slow sharply this year. Its "best case" estimate calls for the world economy to grow by 2.4 percent in 2020, down from its forecast of 2.9 percent growth prior to the coronavirus outbreak.
It is impossible to estimate how extensive the coronavirus outbreak may become and how much stimulus might be needed to counteract the slowdown in consumer demand. The Fed raised interest rates in 2018 and therefore can reduce rates without falling into negative territory.
In an article published in The New England Journal of Medicine, three researchers said the coronavirus disease, also called COVID-19, poses "critical challenges" to public health but so far appears to hit older patients hardest and has yet to infect children younger than 15.
"Either children are less likely to become infected, which would have important epidemiologic implications, or their symptoms were so mild that their infection escape detection, which has implications for the size of total community infection," wrote doctors Anthony Fauci, Clifford Land and Robert Redfield.
"This suggests that the overall clinical consequences of Covid-19 may ultimately be more akin to those of a severe seasonal influenza, which has a case fatality rate of approximately 0.1 percent, or a pandemic influenza similar to those in 1957 and 1968 rather than to a disease similar to SARS or MERS, which had a case fatality rate of 9-to-10 percent and 36 percent, respectively," said the article.
In a research note to investors, investment bank Goldman Sachs said the US and world economies will rebound in the second half of the year if the coronavirus is brought under control quickly and if supply-chain disruptions are minimal.
Goldman Sachs foresees no earnings growth this year in US companies due to a decline in Chinese economic activity, lower demand for US exports, supply-chain disruptions and increased economic uncertainty.