By AI HEPING in New York | chinadaily.com.cn | Updated: 2020-03-03 12:19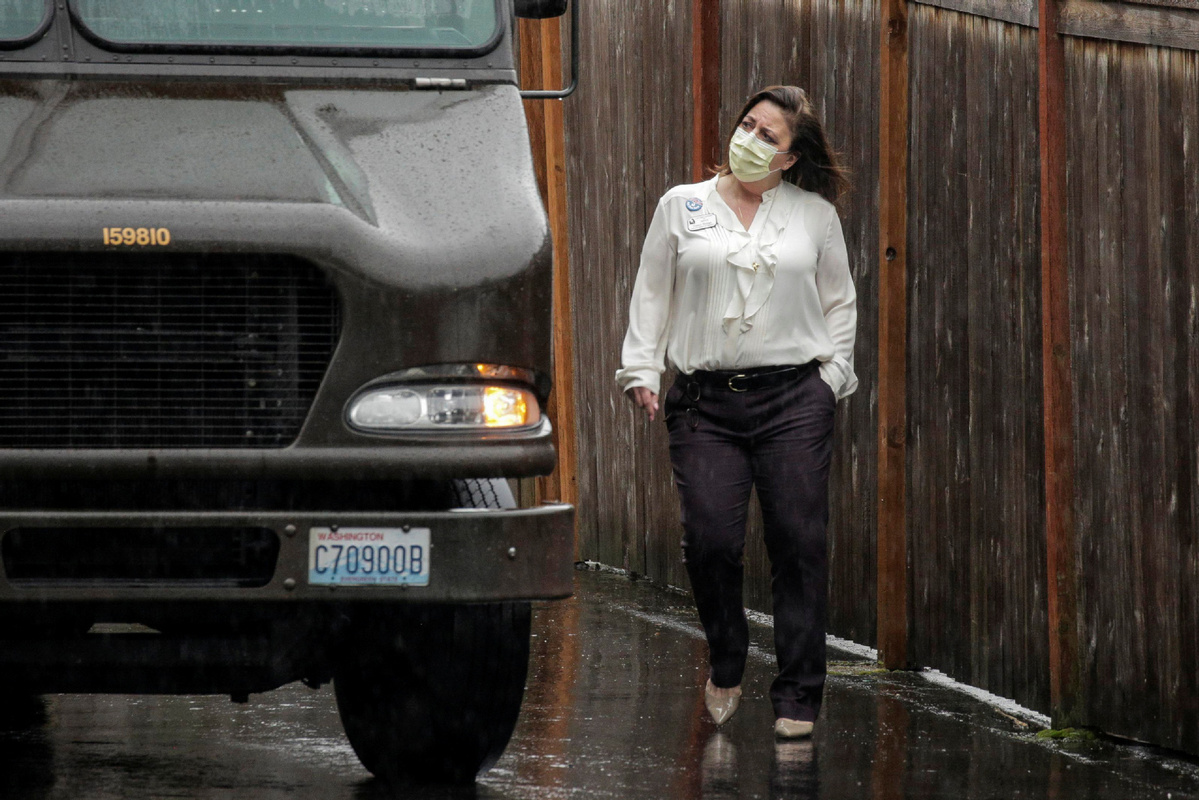 Washington state on Monday became the center of the coronavirus fight in the US as health officials confirmed four additional deaths from the disease, bringing the state's death toll to six.
There are 18 confirmed cases in Washington, including the six deaths. Most of those who have died were elderly or had underlying health conditions.
All the deaths occurred at EvergreenHealth Medical Center in Kirkland, according to Dr Ettore Palazzo, a spokesman for the hospital, who spoke at a news conference in Seattle. Five of the deaths were King County residents and one a Snohomish County resident.
King County Executive Dow Constantine said he is in the final stages of buying a motel where patients can recover in isolation. The motel should be available later this week. The county is also setting up modular units primarily for people who are sick and don't have a home in which they can recover.
Researchers looking into the genetic makeup of the virus have developed data they say suggests that COVID-19 has been spreading quietly for weeks in Washington, a possibility state health officials and the governor's office acknowledged Sunday.
We now know that the virus is actively spreading in communities here in Washington," said state health officer Dr Kathy Lofy.
In Congress, bipartisan negotiators are closing in on a $7.5 billion emergency spending bill to fight the coronavirus, two people familiar with the negotiations said Monday, according to The Washington Post. The legislation is likely to be made public Tuesday and pass the House later this week, before moving to the Senate.
Last week, the White House requested $1.25 billion in new money and proposed redirecting an additional $1.25 billion from other programs and using it for the coronavirus response.
In the US, a total of 23 cases were announced on Saturday and Sunday in California, Florida, Illinois, New York, Oregon, Rhode Island and Washington. The new cases included a mix of people who had traveled to high-risk countries and those who were believed to have contracted the disease domestically
Though the number of coronavirus cases in the country is growing, President Donald Trump said that there were still "not very many in the United States". He met with drug-company executives on Monday at the White House and said he asked them to speed up work on a coronavirus vaccine.
"We're talking about a vaccine, maybe a cure, it's possible, we'll see about that," Trump said in the Oval Office on Monday. "We've asked them to accelerate whatever they're doing in terms of a vaccine."
American health officials have said a vaccine is still more than a year away from being finalized.
The president was scheduled to hold a re-election rally Monday evening in Charlotte, North Carolina, and said such campaign rallies are not a health concern.
Noting that Democrats are having rallies, he said, "I think it's very safe."
The Dow Jones Industrial Average gained nearly 1,300 points Monday after its worst week since 2008. Markets surged on the growing hope that global central banks and major developed economies will act to help counteract the potential harm from the virus.
British Airways on Monday said it was canceling hundreds of flights — including a dozen between London and New York — in response to the coronavirus. In an emailed statement, British Airways said that it was canceling flights between March 16 and 28 "to match reduced demand due to the continuing coronavirus issue".
New York City's first patient infected with coronavirus is a 39-year-old female healthcare worker who showed symptoms after returning from Iran, officials said Monday.
She remained isolated in her Manhattan apartment with a mild respiratory condition. The woman's husband, who also works in healthcare, traveled with her, and results from his coronavirus test are pending. He is also isolated in the couple's home.
The coronavirus, now present on every continent except Antarctica, has infected nearly 90,000 people, killing more than 3,000.
Across Europe, countries reported steady increases in the number of cases, while officials warned residents to prepare for large outbreaks.
Italy has the most coronavirus cases of any country outside of Asia. It reported a 50 percent increase in cases Sunday, as the US further restricted travel and the famed La Scala opera house closed.
Delta Air Lines is suspending its US flights to Milan, the carrier announced Sunday. Delta said it will resume flights to Milan on May 1.
Italy's Civil Protection Authority reported the country now has 1,694 confirmed coronavirus cases, up from 1,128 confirmed cases on Saturday. Thirty-four people have died.
South Korea has now reported more than 4,200 cases and 22 deaths, meaning it has more than half of all cases outside China, WHO said.
In China, where the epidemic erupted and where the overwhelming majority of cases have been identified, on Sunday officials reported 206 cases of COVID-19 to the World Health Organization (WHO), the lowest since mid-January. Only eight cases were reported Sunday outside Hubei province, the center of the outbreak.
But outside China, a total of 8,739 new cases have been reported to WHO from 61 countries, with 127 deaths.