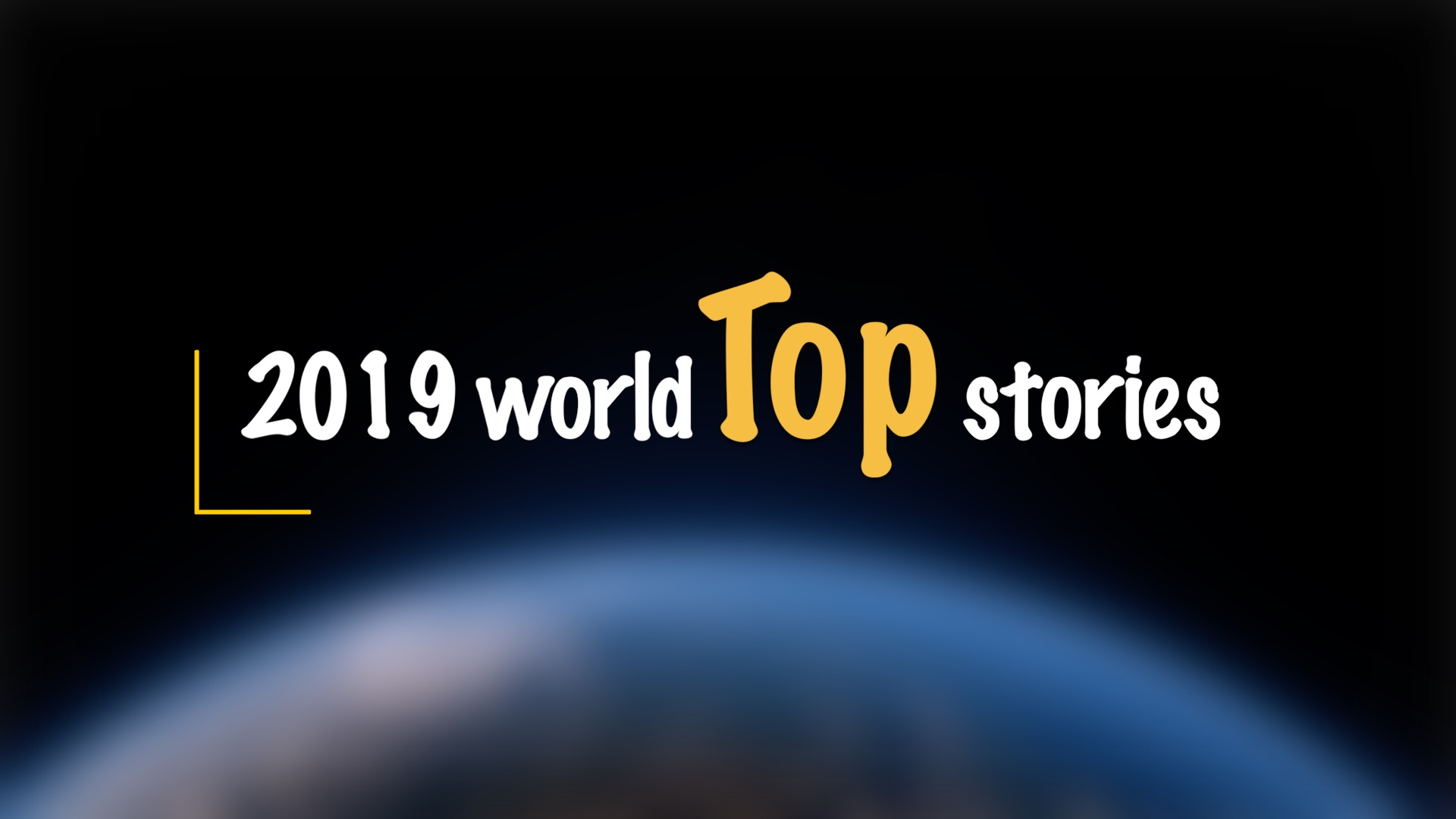 2019 has been a year full of tumult and uncertainties. In the U.S., the sitting president, Donald Trump, was impeached by the House of Representatives, the lower house of Congress. Across the waters in the UK, Brexit, after dragging on for a year, is still in limbo. Meanwhile, protests in France have almost become the new norm after President Emmanuel Macron launched a controversial pension reform.
Amid confrontations, there are still events that offer hope. The first image of a black hole was captured, and a historic meeting between U.S. President Donald Trump and People's Democratic Republic of Korea (DPRK) leader Kim Jung Un on denuclearization was held in Hanoi. As countries around the world brace for 2020, CGTN takes you back to some of the important international events that gripped the world in 2019, whose far-reaching influence may spill over to the upcoming year.
Trump's impeachment saga
The impeachment saga starts with a whistleblower who reported that Trump put pressure on Ukrainian President Volodymyr Zelensky to investigate his political rival Joe Biden's son in a phone call. It was alleged that Trump withheld military aid from Ukraine as part of a "quid pro quo" to urge its president to help him.
House Speaker Nancy Pelosi of California speaks during a vote on the articles of impeachment against President Donald Trump on Capitol Hill in Washington, DC, December 18, 2019. /AP Photo
Trump accused the Democrats of pursuing impeachment against him because they were worried about his reelection in 2020. On December 19, two impeachment articles were passed in the Democrats-controlled House of Representatives, one on abuse of power, the other on obstruction of Congress, making Trump the third president in U.S. history to be impeached by the House.
France engulfed by protests
The Yellow Vest protests that first started in November 2018 over fuel price increases in France continued into 2019. Although the number of protesters has dwindled considerably since early summer, clashes continuously broke out between those that remained and the security forces.
A Yellow Vest protester attends a demonstration in Paris, France, December 19, 2019. /AP Photo
Later in the year, France's biggest strike in decades to overhaul the country's pension reform also started. French President Emmanuel Macron attempted to quell the protests with promises of rollbacks on fuel taxes, and offers to delay raising the retirement age, but many still feel he has not done enough. The long series of protests mark the biggest challenge to Macron since he took office.
Crash of Boeing 737 Max
A Nairobi-bound Boeing 737 MAX 8 operated by Ethiopian Airlines crashed soon after taking off from Addis Adaba, killing all 157 on board. The fatal crash resembled that of a Lion Air plane one year earlier. Both jets were Boeing 737 MAX 8 models, sparking a global debate about the model's safety and resulting in a worldwide grounding of the model.
A maintenance staff is working underneath a Boeing 737 MAX jet in Renton, Washington, DC, December 16, 2019. /AP Photo
Boeing Co has temporarily suspended the production of the 737 Max airplane, starting from January 2020. The grounding has already cost Boeing more than nine billion dollars in customer compensation and extra costs.
New Zealand mosque terror attacks
At least 50 people were killed and 50 others wounded in a deadly shooting attack targeting two mosques in the New Zealand city of Christchurch on March 15. The assailant in the terrorist attack, later identified as Australian citizen Brenton Harrison Tarrant, was charged with murder.
A police officer stands near the Linwood mosque after shooting attacks on two mosques in Christchurch, New Zealand, March 18, 2019. /AP Photo
Six days after the attack, the country announced a ban on the sale of all military-style semi-automatic weapons and assault rifles. The swift response and cross-party support for the new law drew strong reactions in the U.S. where Congress has been stalling for years to pass gun control legislation.
Brexit delayed for a third time
The ups and downs of Brexit is one of the most eye-catching topics of the past year. Theresa May failed three times to pass the Brexit deal she had negotiated with Brussels and offered her resignation against a divided Parliament.
Theresa May leaves 10 Downing Street with her husband Philip May, to visit Queen Elizabeth II, when she will officially resign as prime minister, in London, July 24, 2019. /AP Photo
Boris Johnson replaced May as the prime minister, and requested a Brexit extension until January 31, 2020, which he had promised not to do. However, his gamble on calling a vote to break the Brexit deadlock has paid off. On December 12, he won an unprecedented victory in the election with a big majority, clearing the way for Britain to finally leave the European Union by January 31, 2020.
Japan-ROK trade dispute:
At the heart of the trade and political dispute between the Republic of Korea and Japan (ROK) is reparations paid for historical wounds. In 2018, the ROK's top court ruled that a Japanese compensate Koreans for four people for their forced labor during World War II. In retaliation, Japan removed South Korea from a list of trusted export destinations and slapped export restrictions on chemicals key to the South Korean electronics sector.
South Koreans hold placards during a rally demanding to keep the General Security of Military Intelligence Agreement near the Foreign Ministry building in Seoul, South Korea, November 22, 2019. /AP Photo
The ROK then announced withdrawal from a key intelligence-sharing agreement with Japan and filed a WTO complaint over Japan's export control measures, signaling that the two countries' long-standing tensions over historical issues pose a threat to their economic and military ties for the first time in history.
Turkey's military offensive in Syria
Turkey launched a military offensive into northeastern Syria, days after the Trump administration announced that U.S. troops would withdraw from the region.
A Turkish army vehicle drives in Turkey after conducting a joint patrol with Russian forces in Syria, November 8, 2019. /AP Photo
The operation aims to clear the region of Kurdish People's Protection Units, a group that Turkey considers "terrorists" but which the U.S. regards as a key ally in the fight against IS. There are fears that the offensive would result in mass displacement of people and the revival of IS.
Death of IS leader Baghdadi
Islamic State (IS) leader Abu Bakr al-Baghdadi, the world's most-wanted terrorist, was killed in a U.S. military operation in northern Syria, an announcement that President Trump made public during a nationally televised address at the White House in October.
Positive identification information on Islamic State (IS) leader Abu Bakr al-Baghdadi is displayed at a joint press briefing at the Pentagon in Washington, DC, October 30, 2019. /AP Photo
Baghdadi came into prominence in 2014, when he announced the creation of a "caliphate" in regions of Syria and Iraq. It was eventually defeated by varying coalition forces though the whereabouts of Baghdadi had remained unknown until the details of his death were revealed. His death was a major blow to the terrorist organization whose regional and global spread has been in decline.