By Zheng Yiran | chinadaily.com.cn | Updated: 2020-03-03 16:48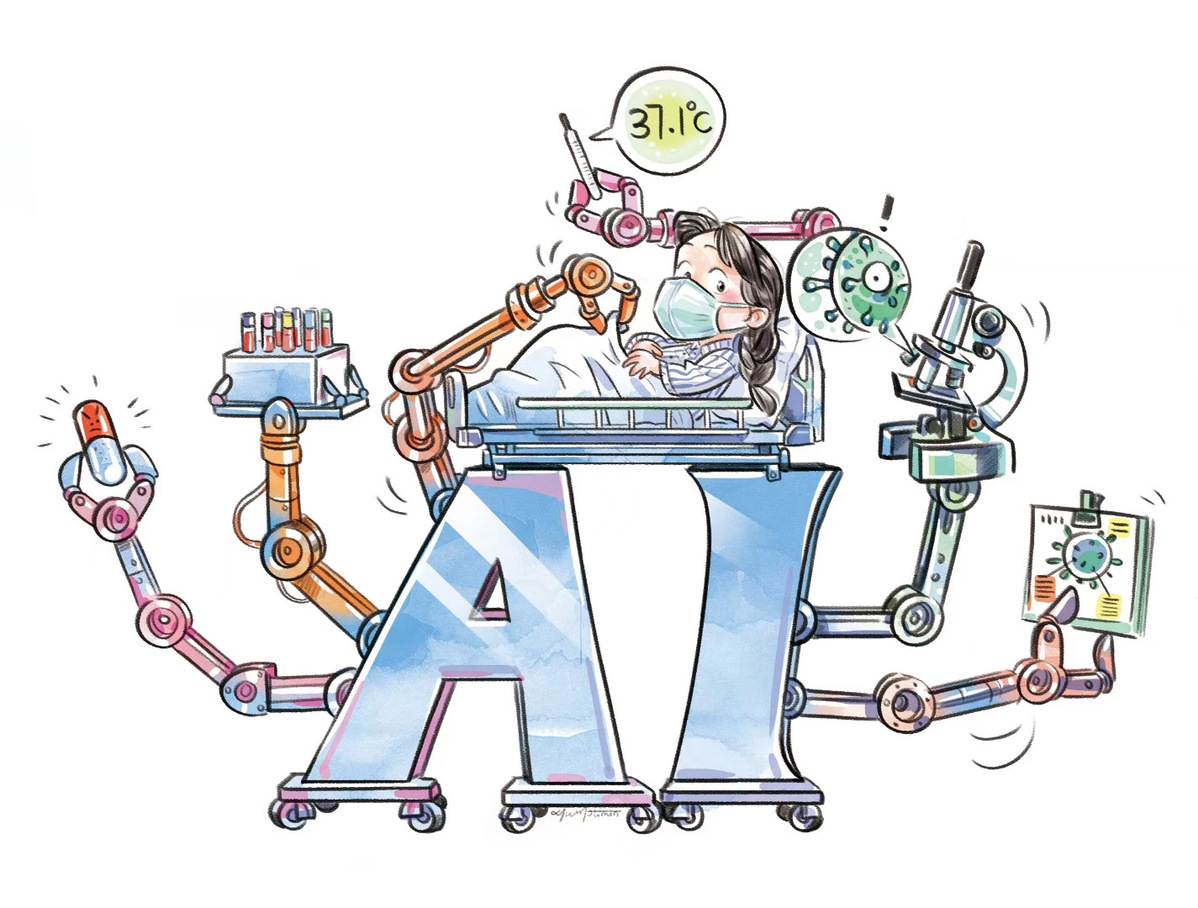 The fight against COVID-19 has shed new light on the artificial intelligence-assisted medical sector, as AI is relieving the burden on medical staff and gaining increasing popularity.
"Hi Bob! Tell me how to choose a face mask."
"Sure. Here is a recommended list of face masks for you to wear on various occasions …"
This is part of a conversation between Wang Ying, a 30-year-old office clerk in Beijing, and AskBob, an artificial intelligence-enabled consultation platform developed by Ping An Smart Healthcare, a section of Ping'an international Smart City Technology Co Ltd under the Ping An Insurance (Group) Co of China.
To fight against the novel coronavirus, the platform now provides free information services on a variety of topics, such as health condition self-check, epidemic Q&A, psychological self-assessment and epidemic community search.
During the special period when human medical resources are limited, AI has greatly relieved the burden on medical staff. For example, AskBob's epidemic Q&A section currently summarizes various types of questions and authoritative answers, based on AI technology, answering concerns from the public just like a real doctor.
According to the company, using text understanding technology combined with language models and knowledge graphs, the smart platform now offers full-process medical services covering pre-, mid- and post-diagnosis to the public.
Working with official new media platform health.people.cn under People's Daily, AskBob was launched in many regions, including Chongqing, Hubei, Heilongjiang, Liaoning, Beijing, Shandong, Fujian, Jiangsu and Guangdong.
On the doctor's side, on Feb 19 Ping An Smart Healthcare launched its smart computerized tomography, or CT reading system. The AI-assisted system generates analysis in 15 seconds, with an accuracy rate of 90 percent.
It can help radiologists accurately identify lesions, issue a diagnostic report, and enable electronic film image sharing to reduce repeated filming.
Geoff Kau, co-president and chief strategy officer of Ping'an international Smart City Technology, said the system improves the efficiency of frontline radiologists and helps doctors treat patients as accurately as possible.
In the face of the surge in CT readings and the shortage of frontline radiologists in epidemic areas, the system also offers distant medical assistance, he said.
Apart from medical consultation and CT reading, AI is also assisting local governments in decision-making for epidemic prevention and control. On Feb 18, the management system developed by Ping An Smart Healthcare entered the second batch of recommended free service issued by the Department of Economy and Information Technology of Hubei province, epicenter of the virus.
Using AI, the management system dynamically tracks epidemic information, quickly completes statistics for epidemic indicators in the areas under jurisdiction, and tracks the situation of patients under observation at home in real time. In this way, it is able to estimate and evaluate the effects of governments' prevention and control measures, predict trends in the epidemic situation and thus assist management decision-making.
Currently, the system has been applied in many cities, such as Wuhan, Xi'an, Chongqing, Harbin and Fuzhou. "The system is capable of establishing a long-term mechanism for sustainable epidemic prevention and control. In the future, with continuous improvement, the system will become one effective way of increasing local scientific governance," said Zhao Gang, head of Xiangfang district in Harbin.
"As an AI company, our goal is to resolve the most urgent needs of the public. Taking advantage of AI technology, the company will spare no efforts to help residents, as well as governments and medical institutions at all levels, overcome difficulties during the special period.
"Using technological advantages, we will continue to help increase the scientific level of local governance when the epidemic ends," Kau from Ping'an said.