Members of Libya's internationally recognized government forces carry weapons in Ain Zara, Tripoli, Libya, October 14, 2019. /Reuters Photo
Libya's parliament on Thursday denounced as "high treason" Turkey's prospective military intervention in support of the UN-recognized Tripoli-based government.
Libya has been beset by chaos since a NATO-backed uprising toppled and killed its former leader Muammar Gaddafi in 2011, with rival administrations in the east and the west vying for power.
The elected parliament in the east is allied with military strongman Khalifa Haftar, who is at war with the UN-recognized Government of National Accord (GNA), headed by Fayez al-Sarraj.
"Al-Sarraj and those who support him have requested a foreign intervention in Libya that we designate as high treason," said Ehmayed Houma, parliament's deputy vice speaker.
Turkey parliament approves Libya military deployment02:35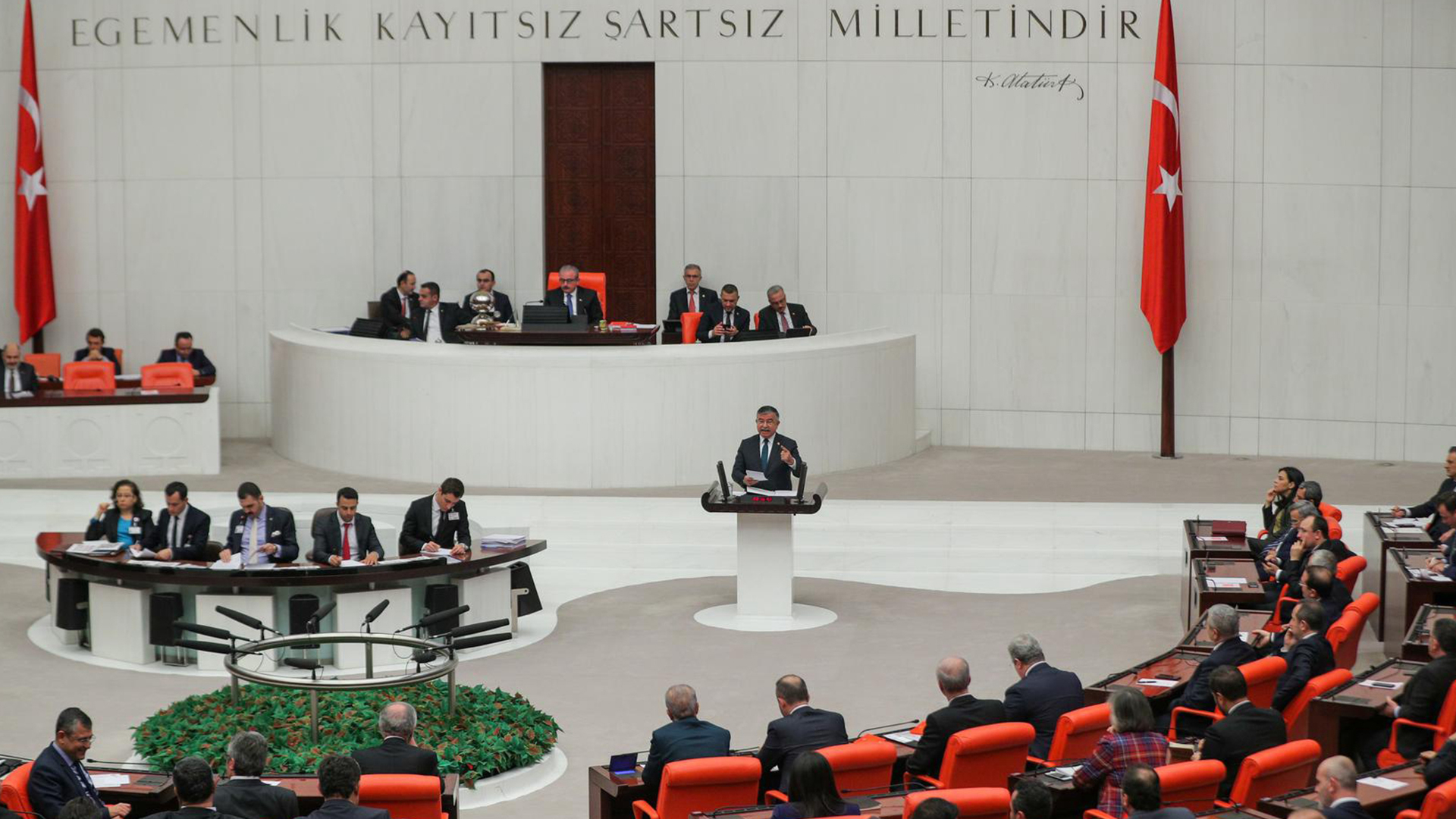 Turkey's parliament passed a bill on Thursday approving a military deployment to Libya, aimed at shoring up the UN-backed government in Tripoli.
The motion passed by 325 votes to 184, and follows a request for assistance by the beleaguered Tripoli government, which has been under sustained attack since April by Haftar.
The bill was opposed by all major opposition parties, who said the move may exacerbate conflicts in Libya and endanger Turkish soldiers in the region and Turkey's national security.
But Erdogan's spokesman Ibrahim Kalin said the bill was an important step for protecting Ankara's interests in North Africa and the Mediterranean, and for achieving peace and stability in Libya.
Turkey's move comes after Ankara and the GNA signed two separate agreements in November: one on security and military cooperation and another on maritime boundaries in the eastern Mediterranean, infuriating Greece, Israel, Egypt and Cyprus.
Houma said an "urgent session" of parliament will be held Saturday in the city of Benghazi "to study the repercussions of this blatant infringement by Turkey" in Libya's internal affairs.
President Tayyip Erdogan said last week that Turkey would deploy troops in Libya to support GNA.
Ankara has already sent military supplies to the GNA despite a United Nations arms embargo, according to a U.N. report. But analysts and some officials say Ankara is unlikely to immediately deploy troops, sending military advisers and equipment first.
On Wednesday, Vice President Fuat Oktay said the bill served a symbolic role that Ankara hoped would be a "deterrent" to the parties, and that Turkey may not send troops if Haftar's forces pulled back.
"This misguided step by Erdogan, which he foisted on his country's parliament, will have serious repercussions in the region," Houma said, calling on Libyans to rally behind Haftar's self-styled Libyan National Army (LNA).
The GNA has justified its request for help from Turkey on the grounds that it will help repel Haftar's offensive on the capital.
"The GNA has every right to defend its legitimacy and to protect civilians against aggression by a collection of coup perpetrators (who are themselves) supported by foreign parties," said interior minister Fathi Bachagha in a statement on Facebook on Thursday.
Turkey in November signed maritime and military deals with the GNA, the latter providing for a direct military intervention by Turkish forces in support of the Tripoli administration.
The agreements were concluded "legally and openly," according to the GNA's Bachagha, unlike arrangements between Haftar's forces and states which discreetly help him recruit "mercenaries."
Saudi Arabia, Egypt and the UAE support Haftar and they all have tense or limited relations with Turkey and another GNA backer, Qatar.
U.S.: Trump warns about Libya meddling
U.S. President Donald Trump discussed the situation in Libya with his Turkish counterpart in a phone call on Thursday, Turkey's presidency said less than an hour after Ankara passed the bill.
"President Trump pointed out that foreign interference is complicating the situation in Libya," the White House said in a statement.
"The United States supports the ongoing efforts of UN special representative Ghassan Salame and the UN Support Mission in Libya to chart a path that provides security and prosperity for all Libyans," a U.S. state department official said on Thursday, adding that external actors "must stop fueling the conflict."
"All countries must refrain from exacerbating the civil conflict and support a return to the UN-facilitated political process," the official said.
Although the U.S. officially supports the UN peace process that underpins GNA, Trump has previously praised Haftar's efforts to counter terrorism and secure oil resources. The comments have been seen by some as coming close to endorsing Haftar, counter to official U.S. policy.
Arab League rejects approval
The Arab League (AL) rejected in a statement on Thursday the Turkish parliament's approval of the deployment of troops in conflict-stricken Libya.
The move is considered "promotion of the ongoing conflict" in Libya, the AL said.
The Turkish parliament's approval ignored the Arab rejection of any foreign intervention in Libya, as stated in Tuesday's emergency meeting of the AL Council at the AL headquarters in Cairo, it added.
"The AL Council stresses support for the political process in Libya," said the AL statement, adding it considers a 2015 UN-brokered peace deal between warring Libyan factions, reached in Morocco's Skhirat city, as "the only reference for settlement in Libya."
Egypt also condemned the Turkish parliament's move in a statement by the foreign ministry, warning against any foreign military intervention in war-torn Libya.
(With inputs from agencies)