The late Major General Qassem Soleimani, commander of Iran's Quds forces, was killed in a US airstrike. (Credit: AP)
The death of Iranian revolutionary icon, Major General Qassem Soleimani, the late commander of Iran's Quds Force and a linchpin of the Islamic republic's foreign policy, will for many in the Middle East have been a symbolic blow to four decades of resilience to perceived Western hostility.
A thorn in the side of both the US and Israel since the 1980s, Soleimani rose through the ranks of Iran's military to take charge of the Revolutionary Guard's elite Quds Force, the main arm of Iran's extraterritorial campaigns. He would go on to be described by Iran's Supreme Leader Ayatollah Ali Khamenei as a "living martyr of the revolution."
For many supporters of the Iranian Revolution, the deadly US airstrike on a convoy transporting Soleimani from Baghdad's international airport on Friday morning will exalt the 62-year-old commander to full martyr status. And, despite US President Donald Trump justifying the strike on one of Iran's most recognizable military commanders as "decisive defensive action to protect US personnel abroad," the geopolitical waves caused by Soleimani's death may yet accelerate the opposite outcome.
The face of Iran abroad
During Soleimani's two decades as commander of the Quds, he determined the movements of not only tens of thousands of Iranian fighters in asymmetrical warfare beyond the Republic's borders, but also a long list of non-state military actors in the region.
Believed to have taken command of the elite unit in the late 1990s, he oversaw the Quds force's military and intelligence support to a long list of regional militia organizations, including Hezbollah in Lebanon, Hamas and its allies in the Palestinian territories, and the Houthis in Yemen.
However, he gained international notoriety following the 2003 US-led invasion of Iraq by directing Shia-aligned fighters in the Levant, first following the toppling of Iraqi President Saddam Hussein and then later directing combatants fighting on the side of Syrian President Bashar al-Assad in the Syrian Civil War.
Soleimani personally joined several military campaigns in Syria against the so-called Islamic State and other groups fighting against the government. He was often pictured during the Levant campaigns without a protective flak jacket, a testament to his reputation as a fearless fighter.
With US officials starting to call for his assassination in the early 2000s, Soleimani's popularity grew at both at home and in the region, as did the apparent threats on his life.
He was rumored to have been killed during a 2006 airplane crash in northwestern Iran and then again during a bombing in Damascus in 2012 which claimed the lives of several senior Assad aides. Once again in 2015, Soleimani was thought to have died fighting alongside pro-government forces around Aleppo in Syria.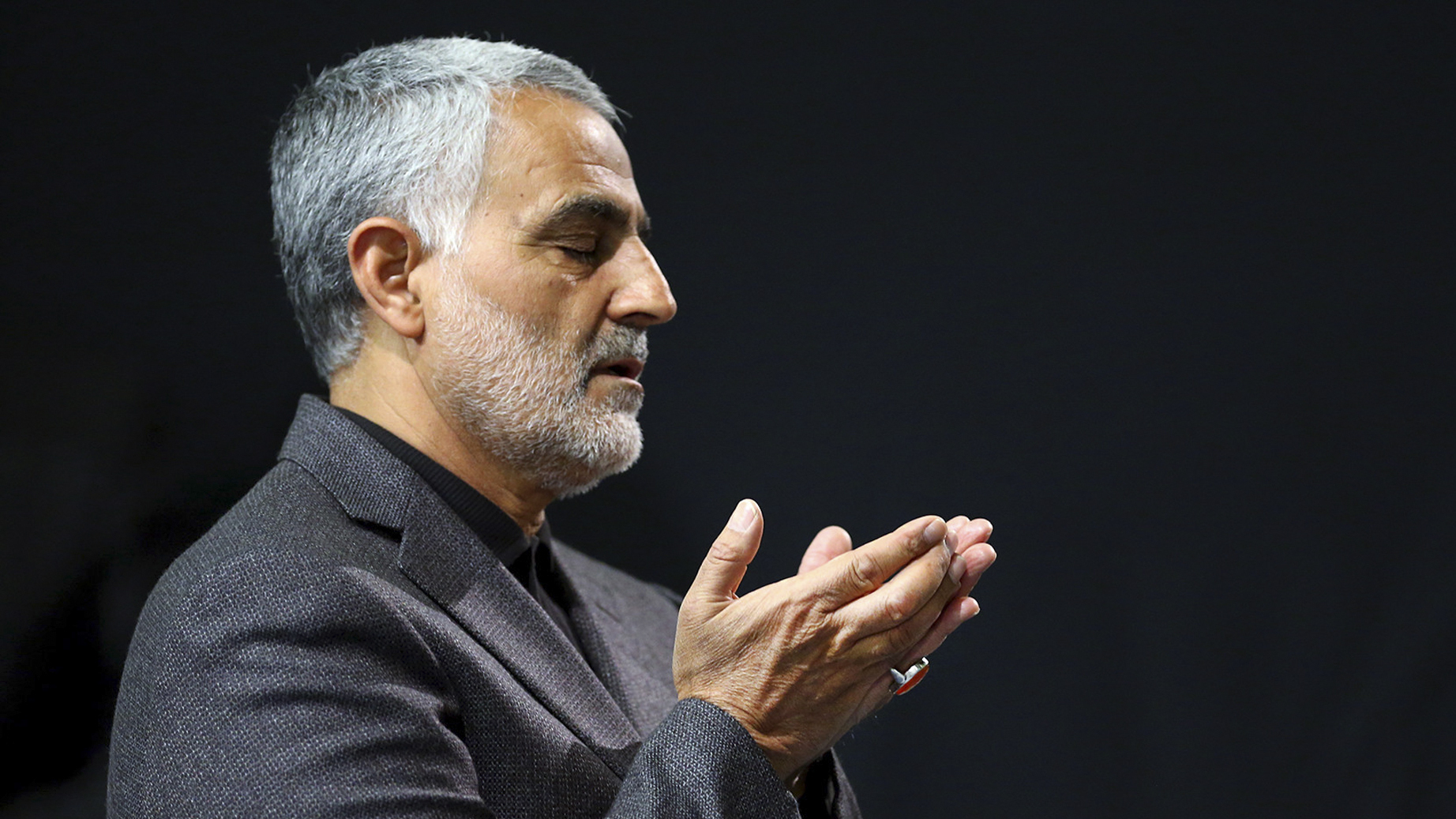 Major General Qassem Soleimani, commander of Iran's Quds forces, was thought to have controlled Iran's foreign policy in much of the Middle East. (Credit: AP)
From mountains to military command
Much of the commander's youth is also mired in mystery. Born on 11 March 1957, Soleimani is popularly believed in his homeland to have grown up near the mountainous Iranian town of Rabor, an area famed for producing some of the country's most fearsome fighters. However, the US State Department has briefed that he was born in the northern city of Qom, an important religious site for Iran's Shia-majority population.
At 13, Soleimani started working in Iran's construction industry, but after the 1979 Islamic Revolution saw the overthrow of the US-backed Shah Mohammad Reza Pahlavi, the young man joined the Revolutionary Guard and was posted northwest to counter unrest among Iran's Kurdish population.
In 1980, Soleimani became embroiled in the eight-year war between Iraq and Iran, in which more than 1 million people died, surviving Iraqi chemical weapons attacks and incursions through enemy minefields. Later describing the front lines of war as "mankind's lost paradise" in a 2009 interview, Soleimani would become known during the campaign for his opposition to "meaningless deaths" in the battlefield, and the fervency of his camaraderie towards those serving under him, reportedly embracing each soldier before entering battle.
Following Iran's war with Iraq, Soleimani retreated from public view, with analysts chalking this up to him being at loggerheads with former Iranian President Akbar Hashemi Rafsanjani, who was in power from 1989 to 1997. However, after Rafsanjani stepped down, Soleimani's military career and status as national icon began in earnest, with Supreme Leader Khamenei even officiating at his daughter's wedding.
Mourners rally in Tehran (Credit: AP)
What follows a legend's death?
As Soleimani's reputation grew at home, so did his importance in the West. US officials were shown in diplomatic cables released by WikiLeaks to have petitioned the commander to help reign in rocket attacks on Baghdad's Green Zone in 2009. Washington would later accuse the commander of fomenting dissent in Iraq, blaming the commander and his Quds forces for an assault that killed five US troops in Karbala.
His role in the Middle East was solidified in the West during a speech by US general David Petraeus, who revealed the Iranian had sent him a message saying: "Gen. Petreaus, you should know that I, Qassem Soleimani, control the policy for Iran with respect to Iraq, Lebanon, Gaza and Afghanistan."
Not only did Soleimani play a vital role in directing Iran's foreign policy in the early 21st century, he also became a national symbol of the revolution for Iran's populace, an icon of the country's growing regional strength and defiance in the face of US imperialism.
Tens of thousands of Iranians took to the streets of Tehran on Friday morning in protest against the military chief's death, with many chanting "death to America" and condemning the US operation as they marched through the capital.
Similar protests were reported by Iranian state news agency IRNA in the cities of Arak, Bojnourd, Hamedan, Semnan, Shiraz Hormozgan, Sanandaj, and Yazd.
On Friday morning, US secretary of state Mike Pompeo doubled down on the decision to launch the airstrike, saying: "He [Soleimani] was actively plotting in the region to take actions – a big action as he described it – that would have put dozens, if not hundreds of American lives at risk."
Pompeo added: "These were threats that were located in the region. Last night was the time that we needed to strike to make sure that this imminent attack … was disrupted."
However, pushback from Iran will not be limited to public protests.
According to Hessameddin Ashena, an adviser to Iran's president: "Trump through his gamble has dragged the US into the most dangerous situation in the region."
After months of heightened tensions between Washington DC and Tehran, the killing of the revered commander may be the straw that broke the camel's back. Ashena said: "Whoever put his foot beyond the red line should be ready to face its consequences."